With so much hustle and bustle filled into every minute of every day, there isn't a whole lot of time left to bond as a family. And all that scheduled time and lack of quality time is having a big impact on the future of our children. Luckily, there are ways to start creating family traditions that will give your children memories that will last a lifetime and the added bonus of immediate fun and joy in their hearts. Whether you start small with daily traditions or go all out for the holidays, each moment will give your children a bounty of benefits. Family traditions can help mold identity, give your children a secure place to land and help them enjoy experiences with their siblings as friends. Here are 10 super fun ways to start fostering your own family togetherness. Try it and watch the magic ensue.
#1: Make Milestones Special
Whenever a big milestone happens in your family, like passing a big test or finally getting those training wheels off, it's a great time to celebrate in a familiar and fun way! Maybe you go to eat at your favorite family restaurant or make a big banner to commemorate. Whatever you choose to do, make it consistent so everyone knows when they make a big accomplishment, they'll be ready for some big fun.
#2: Friday Night Dinner
A weekly dinner is a spectacular idea to help foster traditions and give kiddos something to look forward to. Whether it be ordering pizza every Friday, having the kids cook dinner once a week or eating weekend dinner on the patio, your littles will grow to love and look forward to this fun family meal.
#3: Family Meetings
Grouping together as a family to talk about all the weekly woes can really provide support for your family. Everyone will know what goals you are reaching for and everyone will have a say in what's happening in your family. It's a time for children to be heard and filled in on important information. It gives everyone a sense of purpose and accountability in the family.
#4: Monthly Movie Night
Movie nights are the best nights! Pop some popcorn, turn down the lights and bond together as a family while watching a new or favorite movie! What's even better is sharing all the oldies but goodies with your kiddos! Think "Milo and Otis," "The Goonies," and "Swiss Family Robinson," among others.
#5: Birthday Bliss
Birthdays are such a fun way to establish family traditions. Maybe your people will wake up to balloons all over the floor or a yummy pancake breakfast. Maybe they'll choose one big present they love or spend their party as a weekend adventure. Birthday traditions are an exciting way to keep family traditions strong.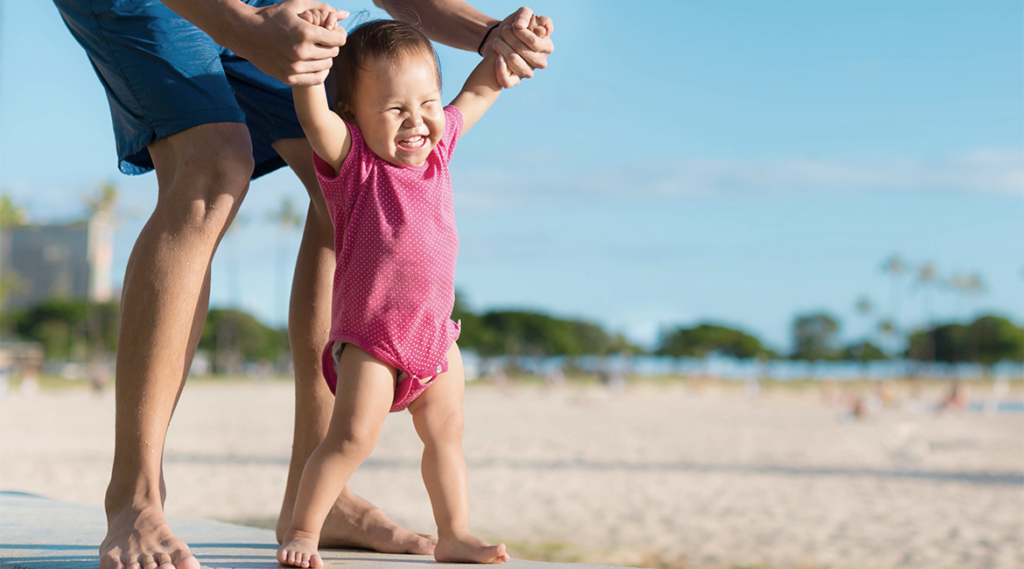 #6: Take A Getaway
Escaping on a camping trip or heading to the sea each year is a great way to establish family traditions and bond together as a family. There are so many exciting places to see and your kids will have a blast seeing it with the very people that they look up to most in the world. Vacations each year are just simply the best family tradition ever!
#7: Pass Down Positives
When skills and knowledge aren't passed down, they can get lost among future generations. Make some time to teach your children the skills you have like black-smithing, jewelry and pottery making, crocheting or wood-working. These important skills will help teach your child about your family's past, your wisdom and also give them some insight into something that they might be good at and enjoy as a hobby.
#8: Daily Goods
There are so many little traditions that can help make every day special. Having a family chalkboard that is designed for the week or month is a fun way for everyone to stay connected. Having a jar for happy moments, good comments or positive notes can help boost everyone's self-esteem. Bedtime stories and bath times are also a great way to establish comfort and security each day.
#9: The Family That Wins Together
Schedule some time to bond over physical activities. Ride bikes together, sign up for a marathon as a family or learn a new sport together. Having some healthy competition and actually winning events together is an awesome family tradition to establish.
#10: Serve Together
Make time to volunteer and give back as a family. Sign up to work at a local pantry or to serve food at your local homeless shelter. Collect canned food for a donation or work together at an animal shelter. Making these things a family tradition can teach your children to think outside of themselves and there is no better tradition than that!
About the Author: Tracy E. Brown is a journalist and educator with over 14 years of experience working in the field of Child Development. She is currently the Assistant Editor of Black Dress/Red Wagon Magazine in Atlanta, Ga. and previous Associate Editor at Pregnancy & Newborn Magazine. She previously taught preschool at the Goddard School in Farragut, Tennessee and taught Kindergarten for Dekalb County Schools in Atlanta. Other writing credits include the Green Building Research Institute, London's facetheory.com, WBIR Channel 10 News, PBS, Duke University and American Airlines. She is also a mom to three adorable little ones.