As moms, we are constantly giving away our time, attention, nurture and love to our children. And rightfully so. Children's brains are constantly growing and learning during the first few impressionable years of life and they need every bit of our love and instruction. But all of that giving and getting can mean you need a break and fast. It's important for moms to find time each and every day for a break from their care-giving routine so they can rejuvenate and remember just why they love being a mom in the first place. So, grab your partner, switch places with them and start the process of relaxing. We suggest taking at least an hour each day to do something you love and carving out a bigger space of time to unwind each weekend. Here are 9 fun ideas for finding a little time that's all your own.
Join A Book Club
One of the best ways to unwind is to join a book club! Adults only! The time of quiet reflection and conversation can go a long way to rejuvenating your spirit. Opening a book is like escaping into another world, one where you aren't entirely responsible for the well-being of others. So, check out your local library and see which day the book club meets or get together with a group of moms who need a break too.
Make Exercise Fun
We're not talking about time on the elliptical, but instead, we want you to find an exercise routine that is an absolute escape for you. Take up ice skating, roller-blading, jazz dance or trapeze. Go on a hike, a swim in a lake or take up bird-watching. Try anything you've been excited to learn more about. Try to find an activity that also allows you to walk enough to get your stress out. Decompression is a must-have for your mommy life and a fun exercise routine can make all the difference.
Shop Solo
Who would have thought the grocery store could provide such refuge? Venture out weekly to the grocery store all by yourself. There's something about being able to take as long as you want to pick out an orange that just screams freedom. The same goes for shopping trips for new outfits. Take your time and try on everything you want just for fun. It's so nice not to be rushed and to feel a little bit like your prebaby self.
Take A Bubble Bath
We mean each day. As soon as your partner walks through the door, give them time with the kiddos and retreat to your own little oasis—the bathroom. Spend an hour or so relaxing and unwinding from the day's work. Try a fun facial, a new nail color or a smelly good shampoo. Pampering yourself, even if just for the evening, can have a great effect on your spirit and the way you feel and look.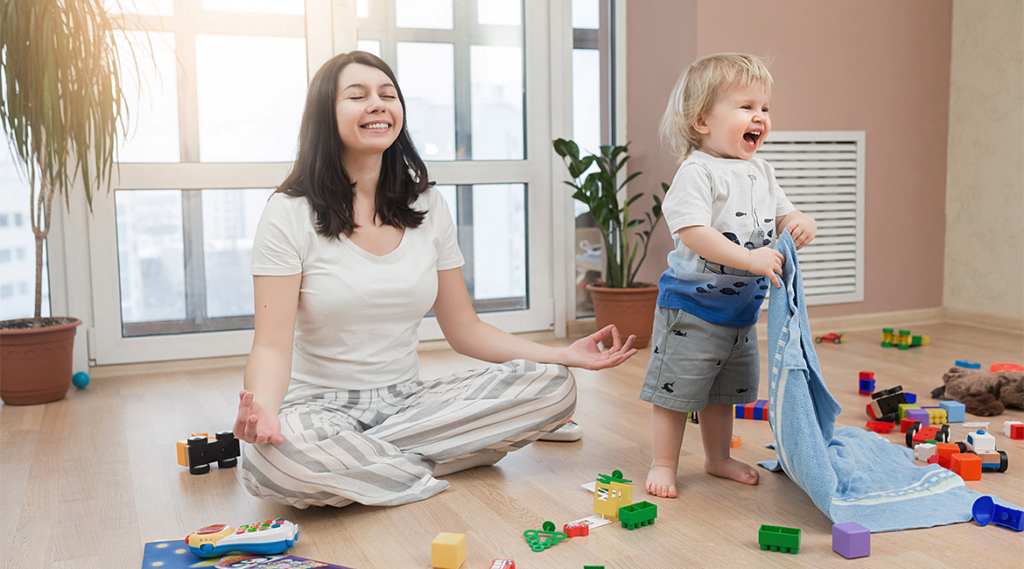 Get Pampered
Either monthly or every few months, save a little time and money to get pampered by the professionals. Get a pedicure with a sassy color, take an hour for a massage or get a new gel manicure on your nails. Just getting a break from giving to others and receiving a little bit for yourself can recharge your batteries.
Have A Power Hour
You need to try to carve out an hour of time just for yourself each day. We will call this the power hour. Do some yoga, learn a new hairdo, read a magazine, download some music and take a stroll around the block or just lay down and do absolutely nothing. The key is that you choose whatever activity you feel like doing each day. You can do the same thing or spice it up by doing a completely different thing each day. The sky's the limit and you're the captain of your own power hour.
Make Girl's Night A Thing
There's nothing more empowering than getting together with other females to discuss all things girly. Sometimes it's just great to hear from other people, get inspired by their new ideas or realize just how lucky you are to be you. Having dinner with the girls can give you an exciting escape that brings you in close contact with people that remind you that somewhere deep inside lies that fun girl that was there before you were a mom. It's also important to have a wide variety of girlfriends—the ones that understand your life as a mom, the ones that take you out of your comfort zone and the ones that remember you when you were wild and free.
Clean After Dark
There is something so amazing that comes from cleaning after everyone has gone to bed. Though you may not be a night owl, every once in a while, you've got to try it. Put on your favorite songs, light some special candles and have a blast cleaning and dancing. You'll get a good release of energy and a clean house at the same time, something that's hard to come by during the waking hours. Trust us—you want to try it! Organizing your closet or creating a desk space count too!
Go On A Date
Try to schedule some monthly "Us" time too. It's nice to get to be with the one you love and remember why you conceived babies in the first place. Having a monthly date night gives you something to look forward to and gives you time to reconnect as adults. You'll come back refreshed and even more in love.
Finding "Me" time is a very important part of motherhood and it doesn't come naturally. You'll need to make a definite effort to carve it out each day and each month. But your sanity is worth fighting for and you need to make sure you communicate your need for a little time to yourself. And don't feel bad! You absolutely deserve it!
Have some fun "me" time ideas of your own? Let us know in the comments below! We can't wait to hear what you're doing to relax and recharge!
About the Author:
Tracy E. Brown is a journalist and educator with over 14 years of experience working in the field of Child Development. She is currently the Assistant Editor of Black Dress/Red Wagon Magazine in Atlanta, Ga. and previous Associate Editor at Pregnancy & Newborn Magazine. She previously taught preschool at the Goddard School in Farragut, Tennessee and taught Kindergarten for Dekalb County Schools in Atlanta. Other writing credits include the Green Building Research Institute, London's facetheory.com, WBIR Channel 10 News, PBS, Duke University and American Airlines. She is also a mom to three adorable little ones.