Midway through the summer is one of the most fun seasons of the year for children.
However, as the temperatures and heat rise, many kids become bored of the limited activities.
Nonetheless, even with the heat, your little ones can get active outdoors and still enjoy themselves.
If the weather gets too intense, you can design creative indoor activities to allow everyone to stay safe in the summer heat!
Exciting Indoor Activities to Keep Your Kids Occupied
There are usually certain times when it is scorching hot outside, and everyone has to stay indoors, especially with children.
So, what do you do in this scenario as little kids do not need to overheat? You get creative with what you have at home so your little ones can have fun even in the heat!
Several fun indoor activities are sure to keep your kids occupied, which involve more than just watching the television.
Here are three of these games and activities you can introduce to children.
1. Frozen Ice Pops
Who does not love a cold and refreshing ice pop during the heat? This fun activity is also practical as you get to prepare it with your child.
Choose their favorite fruits, puree them, scoop into cups with sticks, and freeze until solid.
After the whole activity, they will feel proud while munching on the finished product.
2. Fingerprint Painting
For toddlers and younger kids who are not yet conversant at their paintbrush technique, fingerprint crafts are a fun thing to do.
Pull out the paints and construction paper and prompt your kids to print their favorite thumbs using their favorite colors.
3. Ice Melt Treasure Hunt
Freeze a small treasure in the middle of an ice cube, and allow your child to watch as it melts and reveals the content.
Some ideas for the treasure are coins, plastic toys, and cars, etc.
The ice treasure hunt is recommended for kids above three years old to prevent a potential choking hazard.
Outdoor Activities for Kids During the Hot Days
As wonderful as staying indoors during hot days, it is vital to have options available for outdoor activities.
Allowing kids to play outdoors is not just to give them a change of scenery but also to improve their physical and mental health.
There are endless ways for children to have fun with outdoor games, some of which may even include them helping out with chores.
Check out these creative outdoor activity ideas suitable for kids of all ages!
1. Field Day
With field day, there are several fun races to let your kids enjoy.
If they want to participate in the sack race, they require some sacks, while for the spoon race, they will need an egg and a spoon.
As they have their fun on the field, the parents can use the opportunity to get some work done.
2. Have a Treasure Hunt
Gather up some items that hide well, like toys and lollipops, and put them in places for your kid to find.
You can make the treasure hunt exciting by using some music while the kids are searching.
Immediately the music ends, the hunt stops, and you can start dropping hints to find the ones still not discovered.
3. A Water Balloon Fight
When the sun's heat starts reducing, allow the kids to play outdoors for a water balloon fight.
You can also let them play this game in a spacious bathroom where it is easier to clean the mess.
4. Car Wash
If your kids insist on playing outdoors, you can have them assist wash the car with a bucket of water, soap, and some sponges.
Not only will you have fun with your kids during the car wash, but you will also teach them the importance of helping with family chores.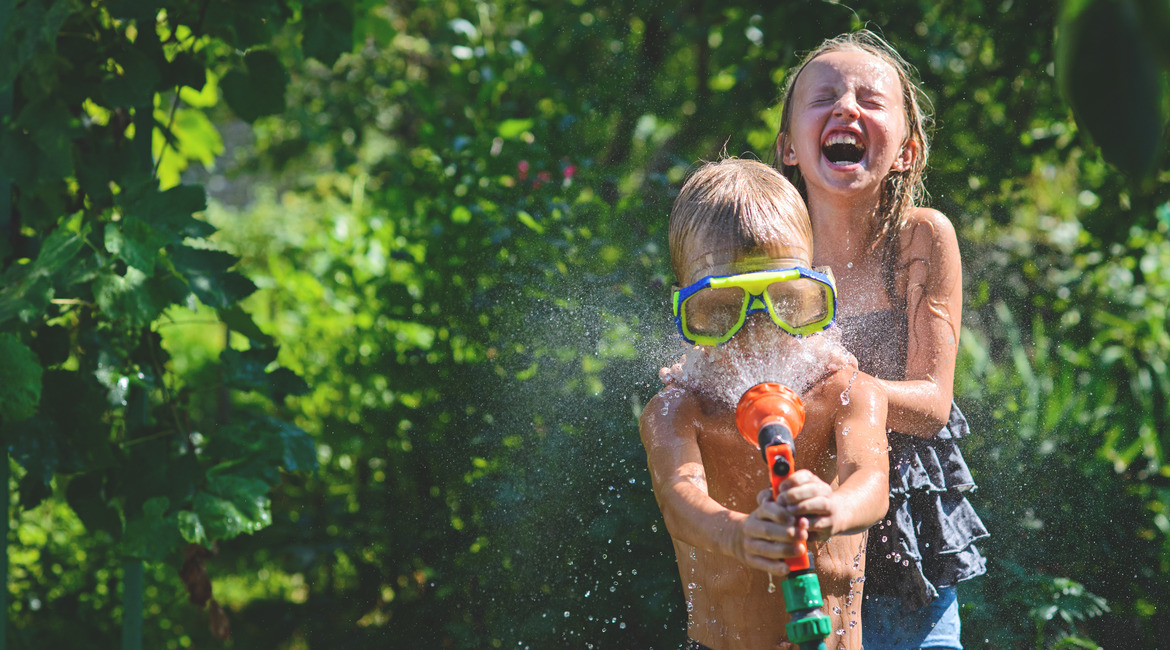 Sun Safety Tips for Toddlers & Kids
Protecting your kids from sun damage requires diligence and safety tips.
Using the following recommendations, your kids can enjoy their outdoor games even in the sun.
1. When to Go Out
The weather is the hottest between 10 am and 4 pm.
If kids are playing outside during this time frame, emphasis the importance of seeking shade every 10–15 minutes per hour.
If the day is predicted to be extremely hot, you need to consider limiting their outdoor time to either the early hours of the day or at night.
2. Use Sunscreen on Kids
The most vital of all sun safety tips is sunscreen, sunscreen, and sunscreen!
Make sure you are using sunscreen on your little ones to prevent sunburn and damage.
To get the optimum protection out of your childs' sunscreen, use these tips below:
Purchase a broad-spectrum sunscreen with an SPF of at least 30.
Opt for your child's preferred application method – lotion, spray, gel, or stick.
Ensure you cover all areas of the skin and not just their face and arms.
Reapply sunscreen frequently if your child is engaging in water activities. For regular activities, every 2 hours is recommended.
Have your kids put on a hat to protect their face and wear loose-fitting shirts to cover their arms and chest.
Since there is clothing with built-in SPF, you can opt for VFX these when they are outdoors.
3. Stay Hydrated
While your kids are having fun outdoors in the heat, they must be hydrated!
Nothing beats drinking plain water instead of juice when it comes to keeping them hydrated.
A good hydration rule of thumb is drinking at least 8 ounces of water every 15 minutes of rigorous activity.
Conclusion
All kids enjoy playing, whether toddlers or pre-teens, so if you have the time and energy, participate.
For maximum enjoyment during the hot days, customize each activity to your child's ages and interests.
For toddlers, it is advisable to avoid direct sunlight on their skin as often as possible.
When carrying babies under six months old outdoors, apply a sunscreen with zinc oxide as the only active ingredient, and use it sparingly.
Instead, rely on a wide-brimmed hat and lightweight sleeves to protect your toddler from the sun.